If you like to train, do it under a supervision of the best. Take individual or group training sessions under a supervision of the table tennis champion – Lucjan Blaszczyk.
If you already have basic skills and want to further improve on them – you have the best opportunity. A personal session is the best way to improve your table tennis skills. Program is always adjusted to the actual potential and level of yuor skills.
DRZONKÓW TABLE TENNIS MINI CUP 2014
data publikacji: 2014-08-05



DRZONKÓW TABLE TENNIS MINI CUP 2014
Zielona Góra Sports Club and Lucjan Błaszczyk Table Tennis Academy have this pleasure to invite you (table tennis players and their coaches) to join us in competition that is going to be held in beautifully located sports facilities.It is already the 3th edition of Drzonków Table Tennis Mini Cup TournamentThe new thing is that we start with a team competition!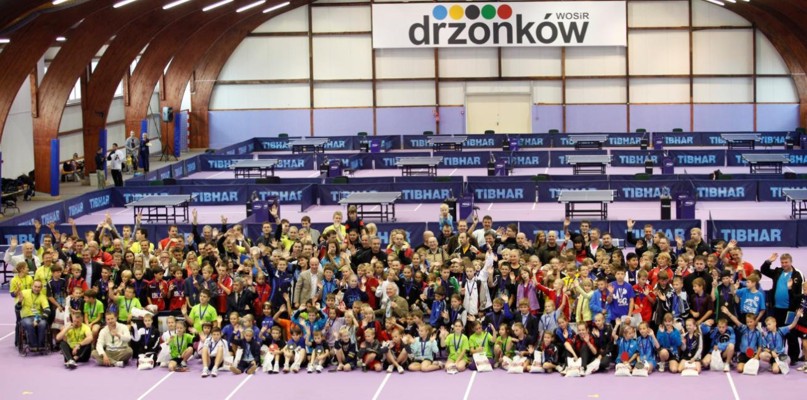 1. VENUE AND TIME
18-21.09.2014 – The Regional Sports and Recreation Centre in Drzonków.
Arrival of competitors: 18.09.2014.
32 tables in two sports halls
2. PARTICIPATION
Boys and girls in the following age categories can join the tournament:
- born in 2000 – 2001
- born in 2002 – 2003
- born in 2004 - 2005
- born in 2006 and younger
3. APPLICATIONS
I deadline for filing applications is 16.08.2014 – accommodation guaranteed
II deadline for filing applications is 15.09.2014 – guaranteed participation in the tournament
Entery fee:
the entry fee is 30,00 PLN per person.
Applications including hotel booking should be filed with:
Roksana Strawa roksana.strawa@drzonkow.pl
Maria Kobierska-Szechowicz, cok.szechowicz@drzonkow.pl
WOSiR w Drzonkowie, 66-004 Racula, ul. Olimpijska 20
Tel./fax: 68 321 43 12/77
4. COMPETITION PROGRAMME
Team competition – Friday, 10.00 h
Age categories:
2000-2001(Kadet); 2002-2003(Młodzik); 2004-2005(Żak); 2006 and younger (Skrzat)
Boys 3 people + reserve player
Girls 2 people + reserve reserve player
Individual competition – starts on Saturday
Age categories:
2000-2001; 2002-2003; 2004-2005; 2006 and younger
For more information contact:
Paweł Sroczyński
tel.: 607353243
mail: pawelsroczynski@wp.pl
5. PRIZES

Winners of the first four places will be rewarded with cups sponsored by ZKS Drzonków and Lucjan Błaszczyk. All the participants will get souvenirs.
Application forms, detailed competition schedule as well as news and updates concerning the tournament status can be downloaded from:
www.tenis-stolowy.zks.pl, www.lucjanblaszczyk.com,